Q: Hi. I don't know if you still check this website, but I was wondering if you can tell me about this book (A Child's Garden of Verses)? Thanks.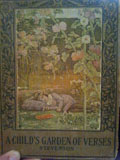 A: Your book is part of the Young People's Library Format 4. You can see it here: http://henryaltemus.com/series/series202F4.htm
This format was published between 1923 and 1933. Originally it came with a dust jacket which matches the book cover. Except for a few special titles (not this one), without a dust jacket most of the books in the format have little value.