Q: I have a important question to ask. My father gave me a book called "The Song of Hiawatha" by Henry Longfellow. The cover of the book is made of leather which is very frail and fragile. It has 219 pages with notes and vocabulary sections at the end. Inside the first pages is a drawing of "Minnehaha". It was published at The Henry Altemus Company. I was wondering if it could possibly be an original from 1855?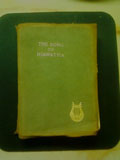 A: Your book is part of the 10 book Poems We Love Series. It was published between 1912 and 1915. The covers have been seen in brown or green suede. The books originally came in a labeled box.
More information about your book can be found at http://henryaltemus.com/series/series146.htm
It only has nominal value.