Q: I am searching for a bit more information on books that were my Mother's when she was a child.
I tried searching on Ebay and Biblio, but could only find a few books from varying series.
What I have:
All four Wee Books from Set No. 1. (Tale of Peter Rabbit, Peter Rabbit Went To Sea, Peter Rabbit at the Farm, Peter Rabbit's Christmas)
Two books from Set No. 7.
Two books from Set No. 8.
Four books from Set No. or Series No. 126.
And, one book entitled, 'Peter Rabbit and the Little Girl'.
Each book is in excellent condition. In fact, I'm not sure they've ever been read or looked through.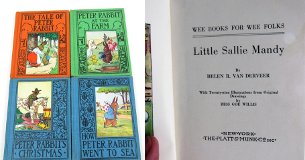 A: These books are reprints of the original Altemus Wee Books for Wee Folks volumes. Altemus published these little books in several series between 1904 and 1933. Platt and Munk reprinted a number of titles in beginning in 1935. The reprints and the Altemus originals came with dust jackets. The reprints also came in labeled boxes. A Platt and Munk box is shown below.
For more information see: http://henryaltemus.com/reprints/platt.html