Q: I recently came across a find (Fanchon) at a local rummage sale and can not seem to find much information on it. I believe it's from the L'Art Nouveau Series as the cover seems to be the same, but your website is the only one with information on these books and it seems to be a mystery to everyone! I would love to hear your take on it and what you think. Do I have a one of a kind ? Please observe the attached photos and I would love to hear back from you.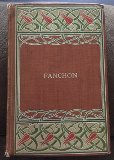 A: Your book is from the La Belle Fleur Series and was published in 1901. See: http://henryaltemus.com/series/series115.htm
This series is one of the less common Altemus Publisher's series. The covers have been seen in a number of different colors. Here are some examples.
But all the titles in this series are reprints and unless the title is a very collectible one, the value (without a dust jacket) is minimal.
A picture of the dust jacket is shown below.