Q: Hi, I was wondering if you could give me any information on the book THE FOOLISH FOX, 1904. I haven't been able to find any information about this book with the green cover.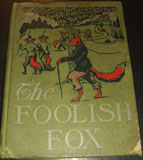 A: Your book is a second format book in the Wee Books for Wee Folks Series. It was published between 1904 and 1911. It originally came with a dust jacket which matched the cover.
See http://henryaltemus.com/wee_books/index.htm and http://henryaltemus.com/series/series185.htm.