Q: Hi, I was trying to research a book by Henry Altemus: Alice in Wonderland and Through the Looking Glass. Its the 167 series. It has a pictorial cover in silver and inks. Would you happen to know what this book would go for or valued at? The book is in great condition. Please let me know.
Thank you and your website has been a great help. I just though I could ask you on its value. Or if you don't know where I could get an answer for my question.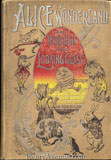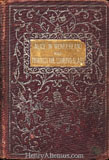 A: Of all of the Altemus reprints of Alice in Wonderland, it is my opinion that this is the best. A beautiful decorative binding in a solid 1895 publication. This series published the combination Alice book in two formats. I am including a picture of the other format (maroon cover with a silver gilt decorative pattern).
See http://henryaltemus.com/series/series167.htm for more information on the series.
The value is somewhat unpredictable. The individual Alice books from the Young People's Library which are as common as trees in a forest frequently are bid up to $50-100 even without dust jackets. This book is much scarcer and of a much better quality than that book. A price of $150-200 is not unreasonable.