Here is another Henry Altemus book with an author's signature. This book was published after 1900 and it was signed in January, 1921 one month before Habberton's death. It is especially nice because of Habberton's photograph.
Habberton wrote other Altemus books besides Trif and Trixy. These are Poor Boy's Chances and Helen's Babies.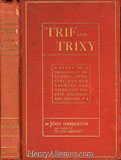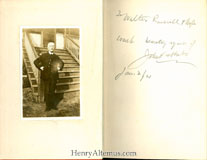 John Habberton (1842-1921) was born in New York and after serving in the Civil War he worked for the New York Herald as an editorial writer. His most famous work was Helen's babies which was first published by Loring in 1876. During the latter part of the nineteenth century it was among the most popular juvenile books in print. Some of his other books include Budge and Toddie, The Chautauquans, Caleb Wright, Everybody's Chance, and All He Knew, etc.