Q: I just acquired a copy of "Precept Upon Precept" by Henry Altemus, Copyright, 1897. I would like to know more info on this print, if it's a first edition, the value, etc. It's in pretty good condition too.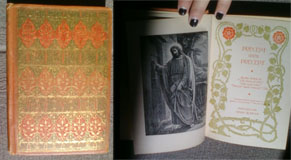 A: Hello. Your Book is part of the Beauxarts Series and was published in 1898.
See http://henryaltemus.com/series/series47.htm.
As with all the the books of this series, it is a reprint and only has nominal value.