Q: History of book by Henry Altemus Company:
It is 6 inches by 4 1/2 inches — Outside is a felt material
Inscribes with Gold Leaf – Autobiography of Benjamin Franklin with a flower on the bottom right side (Gold Leaf)
A picture of Benjamin on the 3rd page
287 pages, no series numbers, no advertisements in back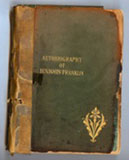 A: This book is part of the World's Classic Series and was published between 1912 and 1916. The limp velvet calf has been seen in both green and red. It is a reprint. Originally the book came in a labeled box.
http://henryaltemus.com/series/series196.htm
Altemus published a number of series that are very similar exact for the gold gilt decoration on the bottom right of the front cover.
In this condition it has no value.