Q: Can you please tell me what you can about this beautiful book (Childe Harold's Pilgrimage)? thanks a lot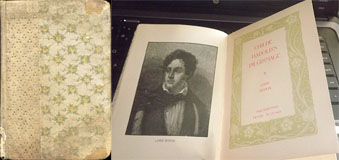 A: Your book is part of the Petit Trianon Series and was published in 1897. Originally the book came in a labeled box.
For more information see http://henryaltemus.com/series/series141.htm.
This series' books in 1897 all had the same decoration on the left side of the cover. On the right side of the cover these books had various decorative designs or floral patterns.
Your book is a reprint and only has nominal value.