Q: Good afternoon,
I have a book that was published by Henry Altemus, Philadelphia. It is Poems, Volume I by Henry Wadsworth Longfellow. It appears to have been a gift given to somebody dated December 25, 1898.
Would you be able to provide any information on this book?
I didn't take a pic but I attached the cover from the website for identification purposes.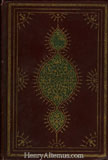 A: Your book is part of the Vademecum Series and was published in 1898. It originally came within a slipcase labeled box. The books of 1898 all had the same cover decoration but have been seen with various colors.
As with all of the titles in this series, it is a reprint. Because this title is not a particularly collectible one, the book only has nominal value.
For more information, see http://henryaltemus.com/series/series179.htm