Q: To whom it may concern,
I have recently come across this book and was wondering what the price is. Please take a look and give me a price quote. Poems by Edgar Allen Poe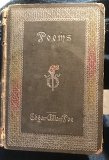 A: This book is part of the Vademecum Series. It is a reprint and was published in 1895. During this year a number of different color covers were printed. Poe collectors may be interested at about $10 but probably not much more.