Q: Hi. I saw your blog and thought you might be able to help. I have a book by Ralph Waldo Emerson. It is "Essays, First Series." It was published by Henry Altemus, and the stated date is 1894. I can't find this particular printing anywhere. Can you tell me anything about it? Thanks so much!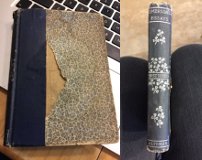 A: Your book is from the "Three Volume Sets" Series. It was published in 1894.
It originally came in a labeled box with two other titles. See below.
For more info about this series see: http://henryaltemus.com/series/series175.htm
In this shape it has no monetary value.