Q: Hello, I've purchased an old Edgar Allan Poe book called Weird Tales. It is small hardback, measuring 6 1/2 x 4 1/4 inches. It has a copyright date of 1895 by Henry Altemus, Philadelphia. The cover has a picture and it also has a floral pattern & the title pressed into the cover. I wanted to know more about the book, but haven't been able to find this particular book when doing searches on the internet. Can you tell me anything about this edition of the book?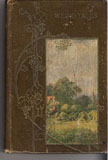 A: Your book was published as part of the Vademecum Series in 1901. See http://henryaltemus.com/series/series180.htm.
The picture is from #5 and #18 seen here: http://henryaltemus.com/vademecum.htm.
This book originally came in a labeled box and is a reprint.