Q: Hello,
I have looked all over your site and cannot find the cover similar to the Black Beauty book we own. Attached is a picture of the cover. The book has no missing pages but does not have a published date page.
On the title page it has
Philadelphia
Henry Altemus Company
Which according to your site it was published after 1900.
Can you give us an idea of its age and value?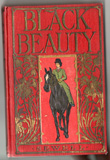 A: You can find your book here: http://henryaltemus.com/series/series58.htm
It is part of the Boys and Girls Classics Series which was published between 1899-1906.
Based on the ads in the back of the book you should be able to date this book rather easily. (Look at the chart at the link above.)
Your book is a reprint and generally only sells for a few dollars.