Q: Hi, I was looking for information on this book. The copyright reads 1899 on the side of the inside cover picture, but beyond the title- Black Beauty, the author and publisher of Henry Altemus, there is no information. Could you fill in the gaps about this book and it's worth?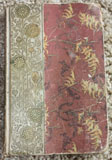 A: Your book is from the Petit Trianon Series and was published in 1899.
See http://henryaltemus.com/series/series143.htm
The books of this series originally came in a labeled box. It is a reprint and only has nominal value.