Q: Hello,
Might you have any information about this book? The Eve of St. Agnes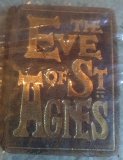 A: Your book is part of the ten title Waistcoat Pocket Series.
It was published between 1906 and 1910. All the volumes in this series are reprints.
Originally it came within a labeled box. See below for an example
It only has nominal value.