Q: Recently found this lovely book and am having a hard time finding info on this particular book, A Christmas Carol.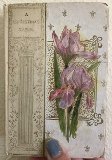 A: Your book is part of the Petit Trianon Series and was published in 1903-1904.
It originally came within a labeled box (see below). It is a reprint.
This format had a number of different covers. The left side with the pedestal has been seen in beige (your book), pink and blue. The latter two colors are relatively uncommon. The right half of the book has been seen with 16 different flowers. Thus, for any one title there are 48 variant covers.