Q: Hello, I have an old Alice's Adventures in Wonderland, I have looked endlessly for the exact copy but was not successful. I was hoping you could help me out, thank You! It's a 1896 edition and it stumps me.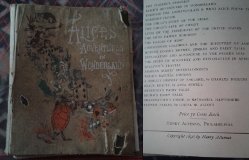 A: Your book is part of The Young People's Library, Format 1. Alice was first published in this series in 1895. Based on the ads your book was published in late 1897/ early 1898.
This is usually a book that is in great demand although in this shape, that would not be the case.