Q: Hello, Attached is the front cover of this book that I recently acquired. Beauty and the Beast
I have looked for similar pictures on your website but could not find the same book.
The book itself is in excellent shape. The DJ is in pieces though.
Could you estimate a value for me as well?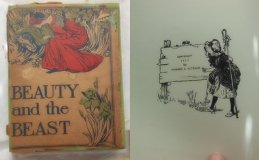 A: Your book is part of the twelve book Mother Goose Series. It is a format 3 title from this series and was published after 1911.
With a jacket these books generally sell in the range of $15-20.
With a tattered jacket it will sell for a bit less.
Here is a picture off the book's cover as well as Format 1 and 2 pictures of this title.