Q: Dear Henry Altemus Expert,
What an amazing website you have put together! Such dedication.
I'm writing because I have a copy of Alice in Wonderland and Through the Looking Glass that matches your Little Men and Women Series, Number 125, #3.
The cover has a fair amount of soil on it and the hinge is quite loose, and there are two people that have written their name on the free end paper in pencil, and then erased it. Can you tell me if there's any value to this book?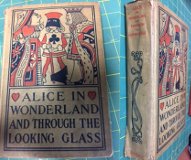 A: Between 1907 and 1925 this title was published with the same cover picture with several different color combinations. It is a combination book which contains two stories by Lewis Carroll.
Alice collectors are always looking for different formats of this title. Thus, a value of $25 or more is not unreasonable.
Here is a picture of several dust jackets that were seen during the course of this series' life.