Q: I acquired this book, The House of the Seven Gables, recently and am wondering about the year it was published. I would be grateful if you could give me this information!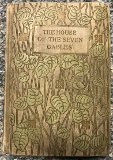 A: Your book was published in 1908-1909. It originally came within a labeled box. See below.
It is part of the Petit Trianon Series and is a reprint.
It only has nominal value.