Q: I received this book from my mother. It belonged to my grandmother. I cannot find a date other than the handwritten inscription that it was given for Christmas in 1900. The title appears to be Addresses by Phillips Brooks.
Any information that you can provide would be greatly appreciated.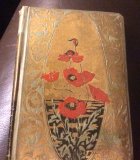 A: Your book was published in 1898 and is part of the Sanspareil Series.
This is a publisher's series that contained only reprints.
It originally came with a dust jacket. An example is shown below.