Q: I'd like to find out how old it is, it was my grandmother's. The Raven and Other Poems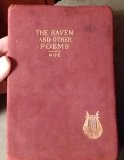 A: Your book is part of the ten volume Poems We Love Series.
These limp velvet cover books are all reprints. They were published between 1912-1915.
Originally these books came within a labeled box.