Q: Hello, I am looking into a weird find! I bought this book and there is no way for me to tell how old it is, or how much it is worth! A Wonder Book. I can't find another like it! Can you help? I've attached some pictures to help you! Thank you in advance!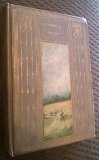 A: Your book was published in 1907. It is part of the Vademecum Series and is a reprint.
It originally came within a box. See below.
Because it is not a very collectible title, it has nominal value only.