Q: Can you tell me a little more information about this book? Visits of Elizabeth. Looking at your site, I identified it as being in the Vademecum Series and probably published around 1901? I found the identical picture on the cover of Mulvaney Stories, shown as #35 and labeled as multiple rocks on hillside. Any other information you could give me, I would appreciate.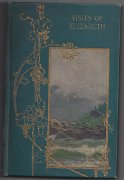 A: You are correct. This book is part of the long running Vademecum Series. All of the titles in this series are reprints. The cover format changed every year or two. This cover is the 1901 cover. The appliqué is one of over forty possibilities.
For more information about these pictures see http://henryaltemus.com/vademecum.htm.