Q: Hello! My wife's grandmother gave her this book years ago, and we are wanting to identify the date. A Christmas Carol. Can you help us figure out which year this Altemus book was published? It just says Altemus on the side and doesn't have identifying information on the first page like most books.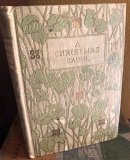 A: Your book was published in 1908-1909 as part of the Petit Trianon Series. As with all of the books in this series, it is a reprint.
It originally came within a labeled box. See below.