Q: Was wondering if you could tell me a bit about this edition of Black Beauty? Thanks for your time.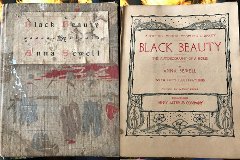 A: Your book is part of the Boys and Girls Classics Series. Henry Altemus Company – Boys and Girls Classics (new) Series 57
This series of fifteen reprints was published between 1908 and 1926. The internal text and title page comes from the plates of Young People's Library books.
The cover is a linen swatch. For more about the linen swatches see the webpage for this series.