Q: I hope you can help with the date of a recent Henry Altemus edition of the Autobiography of Benjamin Franklin. I've attached pics of the cover (2) & inside page. The copyright date page shows 1895 by Henry Altemus.
Any light you can throw on this will be appreciated.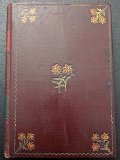 A: Your book is part of the Vademecum Series. This publisher's series contained only reprinted titles.
Your book was published in 1896. During that year this was the cover pattern although different color covers have been seen. See below.