Q: Hello, I was wondering if you could give me any info on this copy of THE RUBAIYAT OF OMAR KHAYYAM. Any info would be help full I believe it's cover is suede?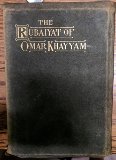 A: The Grolier Series is a 28 volume group of ooze-calf covered titles. They are all reprints which were published by Altemus in 1904.
Green, brown and red color covers have been seen. These books originally came within a labeled box.