Q: A Wonder Book. Nathaniel Hawthorne. Illustrated. No publication date. Inscribed with Mary Brooks signature, class of Reduman S. S. Ephiphany 1900. Miss Banks Class.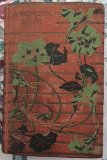 A: Your book was published in 1899 as part of the Sanspareil Series. This is the cover pattern for all of the 110 titles of this year. All of the volumes are reprints.
Henry Altemus Company – Sanspareil Series 163
The covers have been seen in several colors and originally this book came with a dust jacket. See below.