Q: I believe that this book was published in 1888 w/Grimm's Goblins. Inside are ten beautiful illustrations. There is an introduction by John Ruskin but no publication date, etc.
It is in excellent condition. Can you give me the estimated value of this book?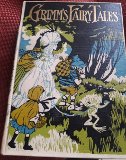 A: Your book was published in 1918. Henry Altemus Co – Non Series #64
Without the dust jacket, even in nice condition, it is worth less than $20.
Shown below is the other 1918 format.