Q: I am wondering if you might be able to give me the approximate value of this book? The Night Before Christmas. Copyright is 1918 and it has a blank page on the inside cover indicating an early version.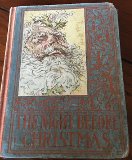 A: It is part of the Wee Books for Wee Folks Series.
This book is the earlier of the two formats of this title. It was published between 1918 and 1921. After that the red lettering was changed to black. Originally this volume came with a dust jacket.