Q: Hello! I was wondering if you can provide any information about this book of John Milton's earlier poems such as what edition it is, its market value, and anything about its original publication. Milton's Poems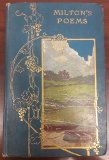 A: Your book was published in 1901 as part of the Vademecum Series.
It is one of numerous reprints published in that era and has only nominal value.