Q: Hello, I just procured a book, which has the wording on the title page "Henry Altemus Philadelphia" of Essays, First Series of Ralph Waldo Emerson. There is no copyright date anywhere. Looks to be about 1900 or before; according to your website info on dating it was probably published before 1900 when the word "Company" was added on the title page to Henry Altemus–am I understanding this correctly? At the back, there is something that might help with dating. Under "Henry Altemus' Publications there is a section which has the heading "Altemus' New Illustrated Vademecum Series". (May I infer that, then, this book was published in 1894 or '95?) Below this, it says "Masterpieces of English and American Literature…" etc. Below this paragraph, it says "Full cloth, Ivory finish, ornamental inlaid sides and back, boxed, 40 cents." As per your suggestion, I enclose photos of the cover and title page.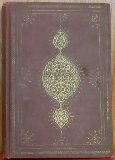 A: Your book is part of the Vademecum Series and was published in 1898.
It originally came within a labeled box.
This title is a reprint.