Q: First of all thank you for taking the time to read this email. While going through a few boxes a friend and I found a book amongst many. Looking inside we couldn't find any kind of copyright or any kind of information of the sort, only the publishing company.
I was hoping you would possibly be able to help us find out a little more information about the book. Milton's Poems
The book itself seems to be a lot of John Milton's earlier work. It's a fairly small book to today's standards. Only about 6.5×4.5 inches. Your help would be every much appreciated.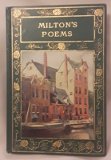 A: Your book was published in 1903 and is part of the Vademecum Series.
See: Henry Altemus Company – Vademecum Series / European Artists and Henry Altemus Company – Vademecum Series (later numbering) Series 180
It is a reprint and originally came within a labeled box.
Because it is not a very collectible title, it only has nominal value.