Q: I came across this book at a yard sale today and was wondering what year it was published.
I love the nuveau cover so much the book is beautiful. Just trying to get some background on it.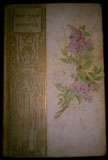 A: Your book is part of the Petit Trianon Series and was published in 1901-1902.
During that year this series of reprints was published in several formats. The left half of the cover was printed in either pink, blue or beige (most common). The right half of the cover had one of sixteen flower pictures.
For more information see http://henryaltemus.com/series/series143.htm.