Q: I have been going through a small box of antique books that my mother had put back. She has Alzheimer's and cannot remember where she bought these—this is one of the books so I was curious if you could provide information on it….Autobiography of Benjamin Franklin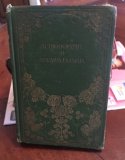 A: This book is a reprint and was published in 1915 as part of the Vademecum Series. The Vademecum Series was the longest running Altemus publisher's series. All of the books in this series are reprints. In 1915 all the books originally came within a labeled box. See below.
It has nominal value only.