Q: I have a volume – The Chimes – Charles Dickens – published by Henry Altemus Company. I am assuming this was published after 1900, but cannot find the cover in all the information on your website. I volunteer for a library and we received this as a donation and would like to put it up for sale on our website. Can you please help? My closest guess is 1907, but I can't tell if it is part of a series.
Thank you – attached is a picture of the cover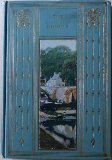 A: Your book is part of the Vademecum Series and was published in 1907.
This series was a long running publisher's series of reprints.
In 1907 more than 40 different pictures have been seen on the cover appliqué.
These books originally were sold within labeled boxes. See below.
It has nominal value only.