Q: Can you give me any information on this book. Paul and Virginia. The front cover has some damage, but the back, spine and interior in good shape. How do you find the year printed? I could find no publishing details?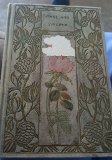 A: This book is from the Petit Trianon Series and was published in 1907. It is a reprint.
The 1907 cover was published with any one of four different appliqué flowers.
Originally it came within a labeled box. See below.
Because of the poor shape, it has no monetary value.